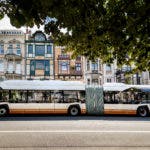 June 17, 2020
CleanTechnica | Clean Tech News & Views: Solar Energy News. Wind Energy News. EV News. & More.
City of Cracow Orders 50 Electric Buses
The city of Cracow in Poland has decided to order 50 Solaris Urbino 18 electric buses to help clean up its air and do its part (some of it) to stop global heating.
More specifically, the transit operator Miejskie Przedsiębiorstwo Komunikacyjne S.A. (MPK) placed the order, which will add the new 50 to an existing 28 Solaris electric buses. This makes it one of the top cities outside of China for electric bus procurement. In fact, I can't think of any city outside of China that has ordered this many electric buses.
The order also included 50 electric bus charging stations, and everything should be delivered by the end of the year. The cost of the order is reportedly 165,435,000 PLN ($41.18 million).
Getting a little technical, "The design of the articulated buses will be adapted to two recharging modes: by means of a 4-pole roof-mounted pantograph placed above the first vehicle axis; or using a plug-in charger. Meanwhile energy will be stored in high density Solaris High Energy+ batteries.
"The electric articulated buses will be able to carry 141 passengers at a time, of whom 43 will be able to travel seated. The latest buses for Cracow will feature a monitoring system, a passenger information system, air-conditioning, USB charging ports and an electric heating system."
"Cracow has taken the fifth place in the contest 'Green capital of Europe 2022'. One of the factors taken into consideration in that competition was ecological transport and its meaning for the environment. The new buses will service four bus lines running through the Three Bards' Avenues (Juliusz Słowacki Avenue, Adam Mickiewicz Avenue, Zygmunt Krasiński Avenue), that is in a region of the city where the air pollution limits are exceeded the most," stated Cracow mayor Jacek Majchrowski.
I was expecting to write more about electric buses in the coming weeks, after the article I wrote a few days ago, "4% Of European Union Bus Sales = Electric Buses." The electric bus news kept flowing in so quickly, though, that I got here before the end of the week.
Aside from the big, breaking 50 bus order above, the city of Craiova in Romania ordered 16 of the same Urbino 18 articulated electric buses from Solaris (to be delivered in the first half of next year, 2021). Romania's Cluj-Napoca previously purchased 41 Urbino 12 electric buses from Solaris.
In addition, Frankfurt bought 13 Ebusco 2.2 electric buses. They will be delivered to Transdev Germany by the end of this year. "At the end of this year already 40 Ebusco electric buses will be driving around in several cities in Germany and in 2021 more buses will find their way to Germany (amongst others in other big cities Munich and Bonn)," Ebusco shared.
Beyond the orders, Solaris announced that it would produce a 15-meter Urbino electric bus (the next generation of the Urbino 15 LE). "This year will see the manufacture of a completely new generation of the Solaris Urbino 15 LE model, created solely with zero-emission drivelines in mind. The bus will be certified and offered with specs characteristic for class I vehicles – as a city bus, and for class II vehicles – as a bus for inter-city transport."
"The decision to build a new bus was triggered not only by market interests, but also by the unprecedented technical progress with regard to electric buses, and in terms of energy storage in particular. Energy storage in the SU15 LE electric buses will be covered by Solaris High Energy+ batteries of the latest generation which was presented by Solaris last year. The new battery solution allows to offer a drive range on a single charging which will fulfil expectations of municipal and inter-city carriers in any travel conditions.
"The first two pre-series vehicles will be fitted with 6 battery packs with a total capacity of over 470 kWh. Two will be roof-mounted, whereas four will be placed in the back of the bus. The batteries in this model can be recharged by means of a plug-in, or, at the customer's request, also using a pantograph. The options available will be pantographs mounted on the vehicle roof or inverted ones. Everything will be consistent with customer preferences and compatible with the existing or planned charging infrastructure.
"The drive unit of the tri-axle Urbino version will be the liquid-cooled, 300 kW central electric motor CeTrax. The driveline will be moved to the second (middle) axle of the vehicle. In order to reduce the use of energy to a minimum, the manufacturer will implement SiC technology in the bus propulsion area."
See more electric bus news.
All images courtesy Solaris.
Zachary Shahan is tryin' to help society help itself one word at a time. He spends most of his time here on CleanTechnica as its director, chief editor, and CEO. Zach is recognized globally as an electric vehicle, solar energy, and energy storage expert. He has presented about cleantech at conferences in India, the UAE, Ukraine, Poland, Germany, the Netherlands, the USA, Canada, and Curaçao.
Zach has long-term investments in Tesla [TSLA] — after years of covering solar and EVs, he simply has a lot of faith in this company and feels like it is a good cleantech company to invest in. But he does not offer (explicitly or implicitly) investment advice of any sort on Tesla or any other company.
This content was originally published here.